Location: Owatonna, MN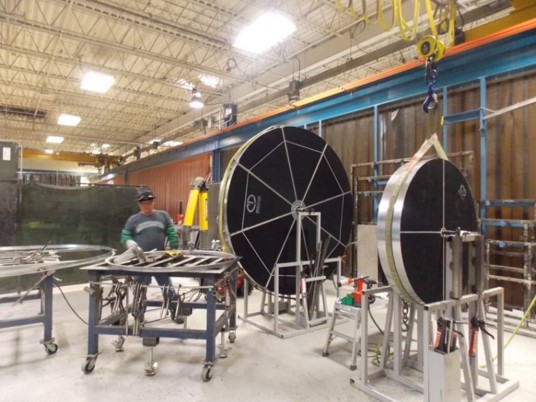 CDI is a thriving company of over 100 employees. Thanks to those valued employees, CDI has grown by serving its customers well and building relationships based on honesty and integrity.
CDI designs and manufactures custom desiccant dehumidifiers and critical process air handlers for numerous markets including food processing, ice arenas, waste water treatment plants, pharmaceutical, automotive, rental, healthcare, aviation, and other niche markets requiring dry air climates. This equipment provides solutions for facilities and mobile temporary applications.
Why Join the CDI Team?
Thank you for your interest in a position at Climate by Design International located in sunny, southern Minnesota!
Position Responsibilities:
Build and repair DH rotor cassettes per schedule and specifications and help welding keep up with schedule requirementsMaintain equipment, tools, and work area in a neat and orderly fashion

welding the wheel into the frame

assembling motors and drive chains

completing electrical wiring of the wheel

determine if DH wheels are "fit for use" per product design requirements

determine if flawed DH wheels can be repaired

correct flaws in wheels

Read drawings for design, dimensions, and tolerances.

Accurately track work hours by job and activity on time card.

Accept other duties and responsibilities as assigned or when required by customer needs.
Capabilities:
Proficient in stainless steel welding and ability to hold critical tolerances

Able to handle these materials in 20 gage to ½ inch thick material: stainless steel, copper, aluminum, hot and cold rolled galvanized steel.

Able to properly use these tools: plasma cutter, band saw, drills, gas torch, mig welder, tig welder, spot welder, die, air tools and grinders, tube swedger, impact wrench; able to efficiently gas weld, tig weld, and mig weld all positions.

Basic understanding of electrical wiring as it pertains to testing DH rotor cassettes.

Able to read blueprints and/or shop drawings or sketches.
Qualifications:
High school graduate or equivalent

Shop courses or equivalent experience is helpful

Minimum of three years work experience in welding in a team-oriented manufacturing environment

Ability to routinely lift 50 pounds.