We are moving on December 4th!
200 Festal Place NW #288
Owatonna, MN 55060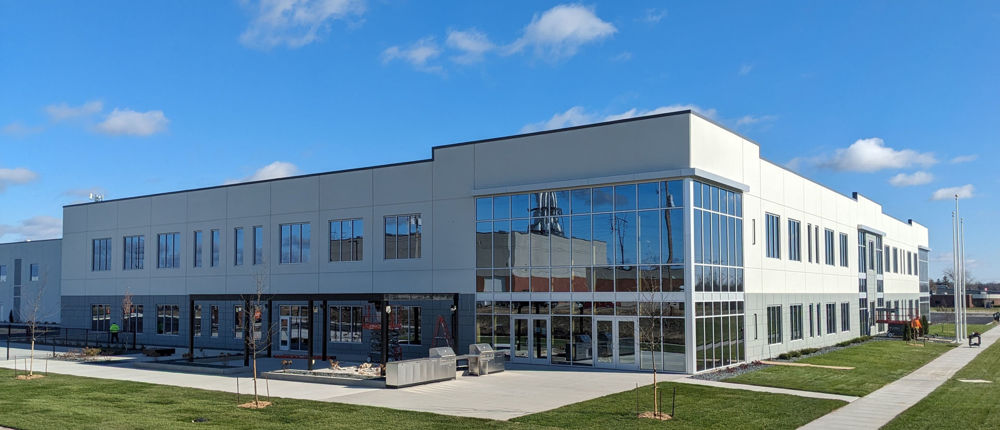 Climate by Design International (CDI), founded by Thomas and Susan Peterson, creates desiccant dehumidifiers and critical process air handlers for a wide array of applications, including ice arenas, hospital surgical suites and food processing facilities. In early 2022, CDI began the process of building a new facility in Owatonna's Industrial Park, having drastically outgrown their current space and "a lot of storage" across multiple locations in town. 
As the construction progresses on its state-of-the-art production facility, Climate by Design International (CDI) and The Opus Group (Opus) acknowledge the significant contributions of local contractors and suppliers who have been instrumental in the successful realization of this project. CDI's unwavering commitment to sustainability and community engagement is underscored by the collaborative efforts of these dedicated partners.
The project has been made possible through the collaboration with reputable local subcontractors, who are playing an integral role in bringing the manufacturing plant to life:
In addition to local subcontractors, CDI has also partnered with respected local suppliers to ensure the highest quality materials for the plant's construction. Daikin supplied a number of rooftop models that will provide affordable air comfort for our team. Similarly, Viracon, an Owatonna-based glass manufacturer with a global reputation, supplied self-tinting smart glass solutions optimizing comfort and energy consumption. CDI is excited to highlight its partnership with Life Fitness, who will play a vital role in equipping the employee wellness and fitness center and reflects CDI's dedication to promoting the well-being of its workforce.
This project is more than just the construction of a manufacturing plant; it's a testament to the power of collaboration and community support. With Opus enlisting the expertise of these local subcontractors, CDI has not only delivered a world-class facility but has also generated a substantial number of jobs for the local workforce.
"We are proud to be a part of the Owatonna community and to have had the opportunity to collaborate with such exceptional local subcontractors," said Peterson. "This manufacturing plant stands as a symbol of our commitment to local job creation, economic prosperity, and the shared growth of our community."
Last November, CDI was announced a recipient of $10 million in New Markets Tax Credit (NMTC) from Mascoma Community Development (MCD). MCD is a Community Development Entity established by Mascoma Bank which creates impactful jobs in highly distressed, low-income rural and minor-urban communities. MCD also targets downtown redevelopment projects which help revitalize communities and provide services to residents.
CDI plans on not only retaining their current employees but also creating over 100 new jobs. All jobs surpass the MIT living wage threshold, deeming them "Quality" jobs.