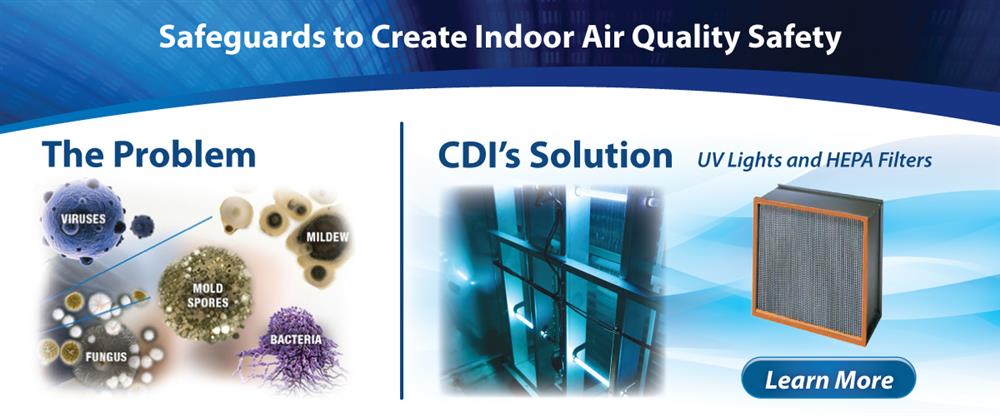 The CDC, OSHA, and ASHRAE have issued interim guidance for meat and poultry processors, businesses and employers responding to COVID-19. The CDC recommends that "facilities should consider consulting with a heating, ventilation, and air conditioning engineer to ensure adequate ventilation in work areas to help minimize workers' potential exposures."
Per ASHRAE, transmission of SARS-CoV-2 (COVID-19) through the air is sufficiently likely that airborne exposure to the virus should be controlled. Changes to building operations, including the operation of heating, ventilating, and air-conditioning systems, can reduce airborne exposures to SARS-CoV-2.
The CDC's recommendations for maintaining a healthy work environment include:
Increase ventilation rates.

Ensure ventilation systems operate properly and provide acceptable indoor air quality for the current occupancy level for each space.

Increase outdoor air ventilation, using caution in highly polluted areas. With a lower occupancy level in the building, this increases the effective dilution ventilation per person.

Disable demand-controlled ventilation (DCV).

Further open minimum outdoor air dampers (as high as 100%) to reduce or eliminate recirculation. In mild weather, this will not affect thermal comfort or humidity. However, this may be difficult to do in cold or hot weather.

Improve central air filtration to the MERV-13 or the highest compatible with the filter rack, and seal edges of the filter to limit bypass.

Check filters to ensure they are within service life and appropriately installed.

Keep systems running longer hours, 24/7 if possible, enhance air exchanges in the building space.
In-duct air UVGI disinfection systems designed to reduce the spread of airborne infectious diseases (e.g., tuberculosis, influenza) in buildings with continuous occupancy and/or with immunocompromised populations (e.g., hospitals, prisons, homeless shelters) should be operated on a continuous basis. This solution works well as part of a multiple barrier approach to reducing transmission of viruses.
Learn more about how CDI's Critical Process Air Handling and Dehumidification HVAC equipment can help you:
Prevent condensation and food contamination hazards. By providing dry air, you can control threats to health, safety, product and a myriad of costs.

Dry air is a solution to corrosion, bacteria, and mold.
Use of UVGI as a part of a multiple barrier approach to reducing transmission of viruses for you sanitation and indoor air quality needs.
Additional Resources:
OSHA/HHC Guidance on Preparing Workplaces for COVID-19