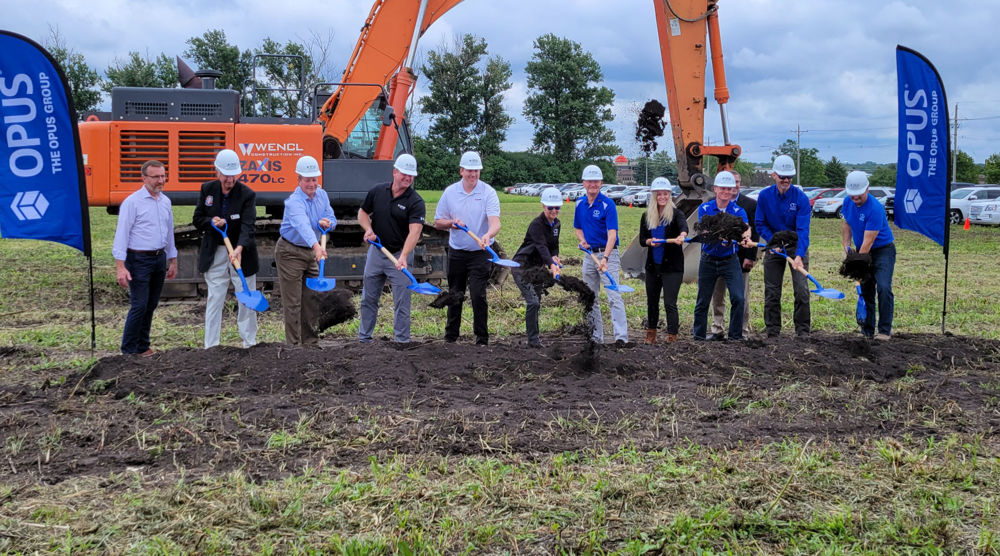 On August 15, The Opus Group® (Opus) and Climate by Design International (CDI), held a groundbreaking celebration at the 14-acre site located at 200 Festal Place NW in Owatonna, MN. 
More than a hundred people gathered in a field Monday afternoon to celebrate the groundbreaking of the new and long-awaited Climate by Design International facility. 
The 14-acre site, just west of Interstate 35 in the industrial park on Bridge Street, will be home to the 212,700 square-foot building that will be the new corporate headquarters and production facility. This will allow for CDI to combine all of its operations and employees into one single facility, streamlining production and distribution while strengthening our corporate culture and supporting CDI's growth into new markets, including providing low dewpoint desiccant units that allow for the manufacturing of lithium batteries used in electric vehicles.
Many people took the time to say a few words during the ceremony, including Susan Peterson, Corporate Treasurer. She said she believes their success and continued growth and immersion into the community comes down to three factors: their faith and trust in God, the hardworking employees of CDI, and the community of Owatonna.
"Owatonna really is a great community, and Owatonna is constantly improving and growing," she said. "We see that in what is happening downtown and it's just a great place for families and businesses, and that's a big reason why we have been able to grow." 
 "Opus is honored to partner with CDI on this headquarters project, which is a testament to the company's rich 30-year history in the Owatonna community," said Jason Conway, senior director of real estate development for Opus. "This state-of-the-art building will give CDI a competitive advantage both in terms of attracting and retaining employees, as well as supporting plans for increased production and growth." 
With easy access to Interstate 35, CDI's new headquarters will include office, manufacturing and distribution space and a wide range of amenities to appeal to the company's growing workforce. Employees will have access to a fitness room with lockers and showers, a prayer room, a bicycle storage room for people-powered commuters, and a large catering kitchen in a two-story cafeteria featuring floor-to-ceiling windows. Adjacent to the cafeteria will be an outdoor patio and a walking path around the property. The entire facility, including the production area, will be air-conditioned, both for employee comfort and to support CDI's production processes. 
"Opus is the right partner for us because their one-team design-build approach assures the project will go smoothly and be completed on time and within our budget," said Tom Peterson, CEO & Founder of CDI. "Based on Opus' strong track record with similar build-to-suit corporate and manufacturing facilities, we are confident they understand our needs and can deliver on our objectives of creating a headquarters that supports our growth while providing a positive environment for our employees." 
The two-story office space will feature ample glass for natural light and include two large training rooms for employee education and customer demonstrations and training. Carrus Group is an operational efficiency company that is analyzing our facility layout for optimal expansion and relocation of our production systems with minimal disruptions allowing us to focus on our core business and day-to-day operations. Opus is also designing the building to accommodate overhead cranes that CDI uses in production and distribution. The building will have four dock doors and 221 vehicle parking stalls.
Opus is the developer, design-builder and architect and structural engineer of record on the project. ISG is the design architect, interior designer and civil engineer of record. The project is slated for completion in August 2023.