Keep Rooms in USDA Compliance at All Times with our Critical Process Food Grade Dehumidifer Series!
Condensing moisture in your food processing rooms can be a quick end to a profitable day. By using a correctly applied and sized Food Grade Dehumidifier product you can take that concern off your list. Using desiccant dehumidification can achieve dewpoints well below the coldest surface in your processing room, therefore eliminating the possibility of condensation where that air is distributed.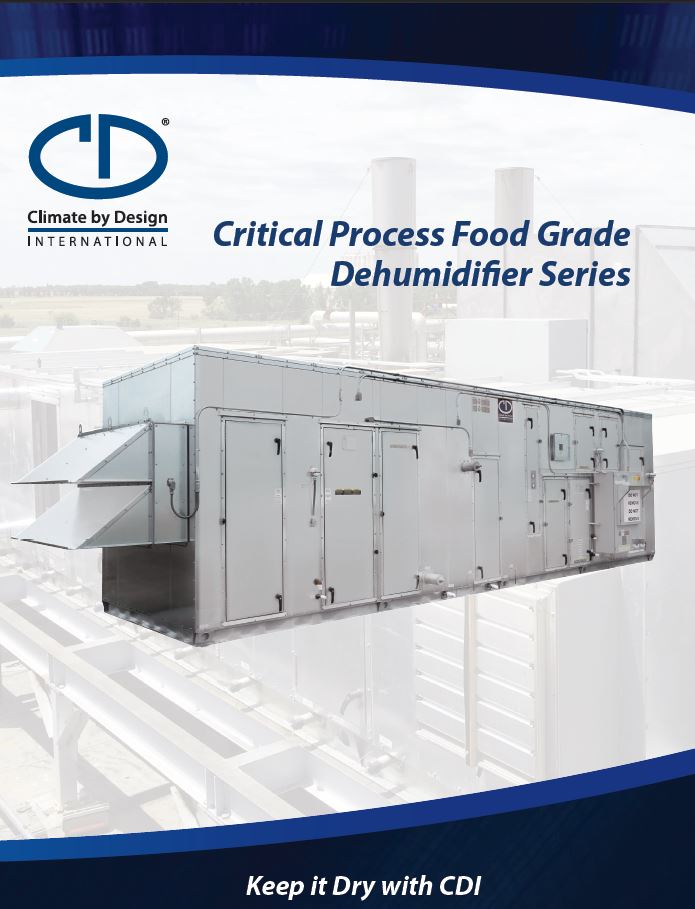 What Does the Critical Process Food Grade Dehumidifier Series Do?
Prevents condensation and food contamination hazards.

Reduces wash-down recovery time.

Increases production capacity and decreases maintenance.

Lowers energy consumption and reduces electrical costs.

Promotes a safer working environment by preventing fog and maintaining dry floors.

Stops frost/ice on conveyors and doors.

Achieves balanced pressure between processing rooms.

Minimizes defrost cycles.

Desiccant Technology at Work
Uncontrolled humidity does not need to be a problem. By providing dry air, you can control threats to health, safety, product and a myriad of costs. Dry air is a solution to corrosion, bacteria, and mold. By using a CDI Critical Process Food Grade Dehumidifier Series Unit, you can have independent control of humidity and temperature. Now you can be as dry as you want at whatever temperature you want.

 Critical Process Food Grade Dehumidifier Series
Desiccant dehumidification specifically designed for the food industry.

Designed with pre-configured components combied to meet unique project requirements.

Total System integration available including heating, cooling, sensible heat recovery, and special filtration.

Unit shown below with full drain pan floor. Available in Wipe Down, Wash Down, and Premium Wash Down Packages.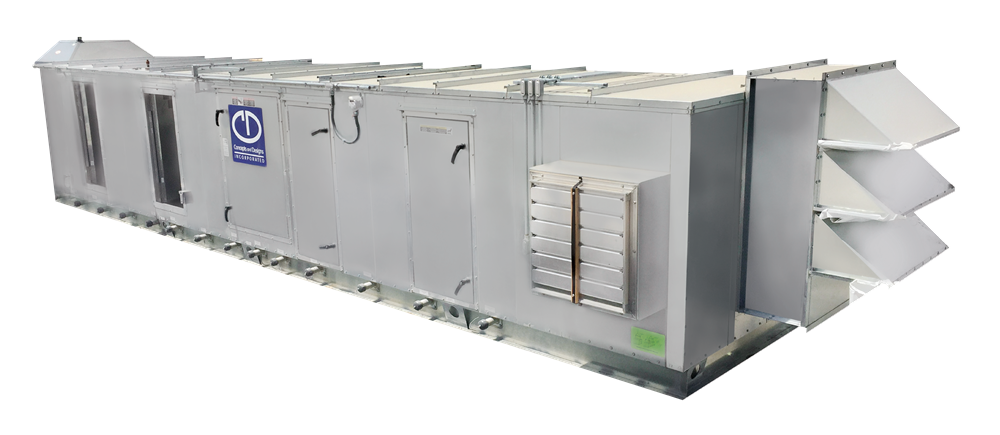 Contact our Sales Engineers with your questions about these units at sales@cdihvac.com or see our Contact Us page.
WEBINAR TRAINING: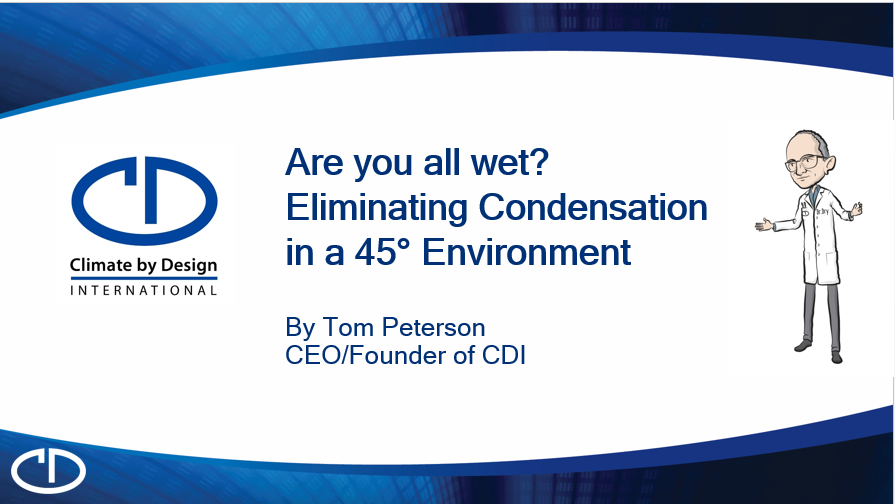 Are you all wet? Eliminating Condensation in a 45° or Colder Environment 
Do you desire to eliminate condensation issues that cause problems with the USDA? Do you want to reduce your sanitation dry down to less than one hour? In this session we thoroughly digest the typical 45 degree processing room, looking both at Ammonia Cooling and Active Desiccants for those critical applications. During this webinar, you will learn:
How a CDI Desiccant/Ammonia Rooftop (FDH) unit works

The Application

Load Calculation Considerations

The Solution

FDH Details – form fit, function and versatility