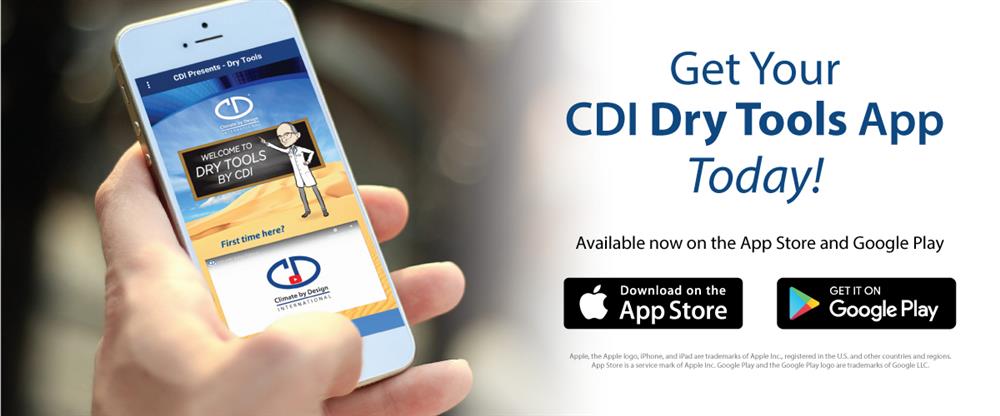 We know how helpful it is to have the one "go-to" place for the tools that you need. The Dry Tools by CDI App will help you have everything you need right at your fingertips.
Dry Tools contains multiple tools to calculate Air Stream Mixing, HVAC formulas, Lead Times, as well as a Psychrometric calculator with integrated weather data for HVAC professionals and students. The app is designed to be your first step to calculating the conditions you need to achieve your critical mission.
Our Dry Tools App will provide you with the tools you need in one handy app. Download the App to get started on your psychrometric journey.
To learn more, watch the Dry Tools Instructional video by Dr. Dry!
App Features:
Welcome by our very own Dr. Dry
Tools
Air Stream Mixing: Solve for mixed air conditions from any two airstreams

HVAC Formulas: Handy, commonly used formulas where moisture in air is concerned.

Lead Time Wheel: Helpful tool for planning project lead times.

Psychrometric Calculator: Enter any two data points and get all the others

Weather Data: GPS locator or search for ambient weather conditions worldwide.
Education
Dr. Dry Talks: From relative humidity to vapor pressure, easy learning with dry humor.

Glossary: Not so common, commonly used terms in our industry.
Products:
More:
Contact Us

About Us

To Our Competition